---
Bassetto Guesthouse
Now offering the concept of co-living; a modern form of shared housing for like-minded people to live, work and socialise together. Our apartments are fully furnished and there are several communal living spaces, which we hope will provide you with an inspirational environment where you can share experiences and common interests. Whether you are interested in a unique smart working space or simply somewhere to relax and recharge we hope to offer the perfect solution.
Half way between Firenze and Siena and close to San Gimignano.
A wonderful place to discover art, nature, wine and make new friends!
---
Where we sleep
We have accommodation to suit every type of traveller
Villa
Apartment
Room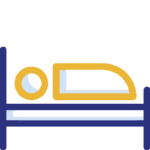 Dorm
---
Events location
Adjacent to the Guesthouse is our 19th Century wine cellar, which has been transformed into an events venue with capacity for 150 people.
What We do
Whether you want to relax in a hammock, swim in the pool, or have an unforgettable experience we have something for you! We can arrange a number of activities for you to appreciate the beautiful surrounding countryside, give you the chance to learn how to cook some local dishes, and drink the amazing wine on offer at local vineyards.
---
What guestS say
Where we are
Bassetto Guesthouse is in Certaldo, the birthplace of Giovanni Boccaccio, author of the Decameron. Located between Florence and Siena this is the perfect place to discover Tuscany. 🌻
---
Our Location
Bassetto Guesthouse & Apartments
Via della Città, 3, 50052 Certaldo FI
Email: reservations@bassettoguesthouse.com
Phone: +39 0571 668342
Mobile: +39 327 9336427
---
Who we are
Francesco's family home dates back to the 14th Century. Formerly a monastery of Benedictine monks the house often provided sanctuary to passing pilgrims. After many subsequent years of wine, olive oil and tobacco production, in 1998, the family reopened Bassetto to travellers, with the same notion of hospitality as the monks' centuries ago.